Cleopatra's Milk Bath Truffles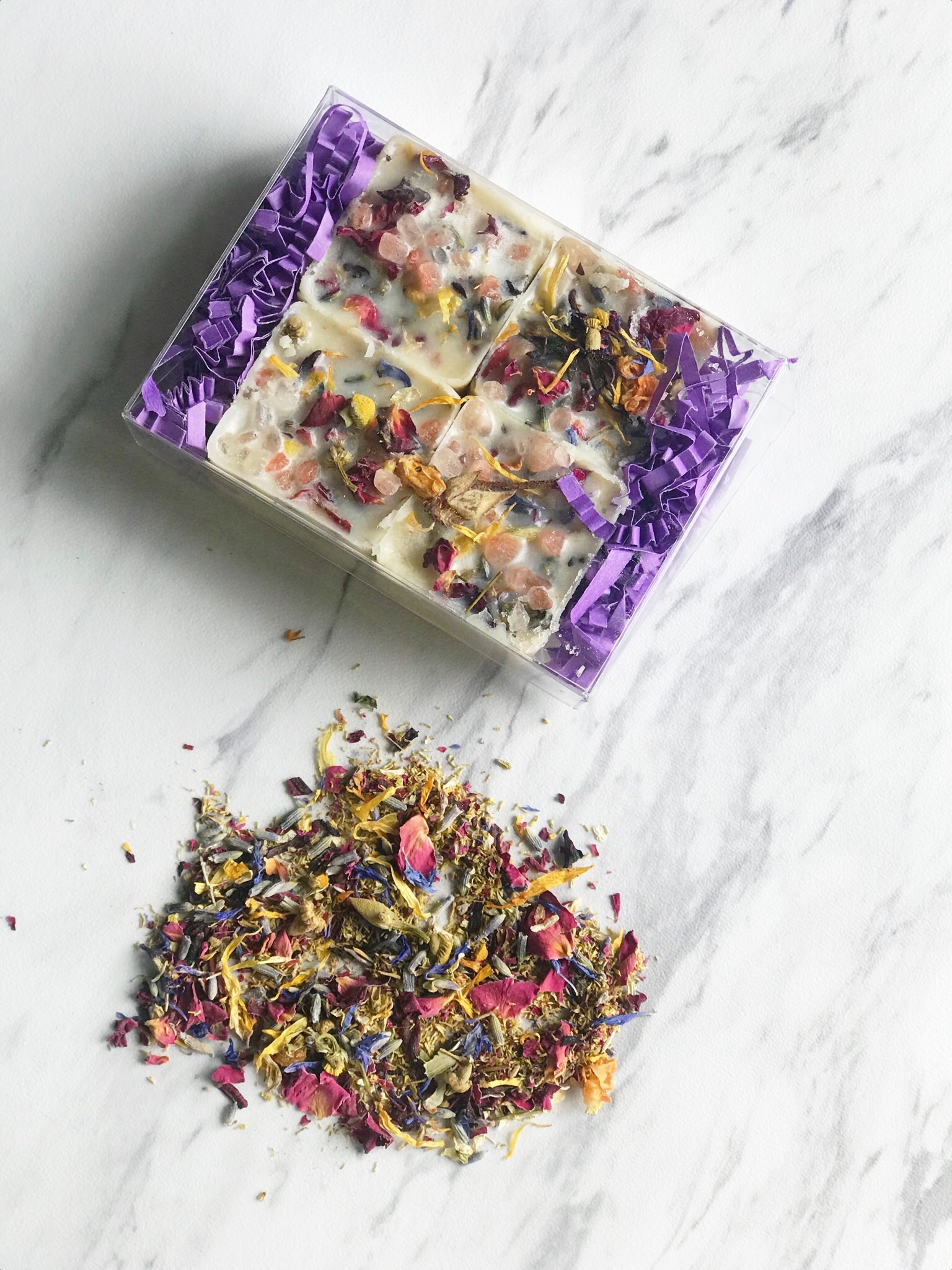 Cleopatra's Milk Bath Truffles
Legend has it that Cleopatra used to bathe in a mixture of Milk, Honey, & Almond Oil, which was known to give her a soft and glowing complexion.
This modern version will leave you feeling like Cleopatra herself. A decadent fusion of Cocoa Butter, Coconut Milk, Buttermilk, Honey Crystals, and Colloidal Oatmeal that leave your skin glowing and supple. Scented in a sensual, soft Coconut Vanilla. Comes in a pack of 4 truffles.
To use crumble truffle under running water or place in a mesh bag and hang from faucet while the tub fills. Sit back relax and pamper your skin. Please use caution exiting the tub. Tub will be slippery due to the high content of Cocoa Butter.

Ingredients: Cocoa Butter, Baking Soda, Citric Acid, Coconut Milk Powder, Buttermilk Powder, Honey Crystals, Colloidal Oatmeal, Cream of Tartar, Fragrance
Most Items are made to order. Please allow 5-10 days for processing before shipping.
A L L E R G E N | D I S C L A I M E R :
FOR EXTERNAL USE ONLY. All information contained on this website, including information relating to medical and health conditions, products and treatments, is for informational purposes only. Discontinue use and contact your physician if any adverse reactions occur. None of the above statements on Shrine of 22s' page or shop have been evaluated by the Food and Drug Administration. Products are for external use only (products with essential oils are not intended for pregnant or nursing women, please contact your physician prior to use), please do a patch test on the skin for any sensitivities and if any occur, discontinue use immediately. Avoid any contact with eyes, mouth, or another orifice. Shrine of 22s' products are not intended to diagnose, treat, cure or prevent any disease or conditions, instead, please consult a physician or other healthcare practitioner with your concerns before starting any alternative treatments, diets, supplements or exercise programs. Please be aware of any personal allergies PRIOR to using this product. If you have an allergy to any of the listed ingredients, this may not be the product for you! Contact me with your allergies and I will accommodate!
Our products are never tested on animals!