Egyptian Milk and Honey Bars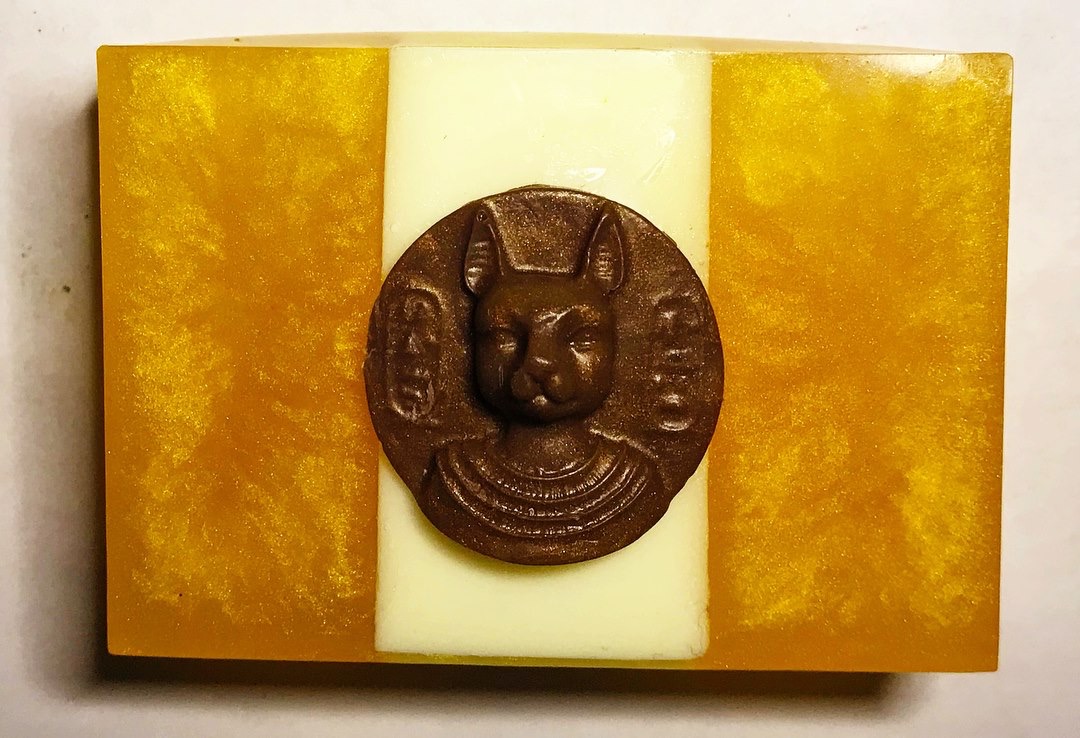 Egyptian Milk and Honey Bars
Bastet: If all acts of love and pleasure are to be our rituals, we could scarcely do better than honoring Bast – a goddess mainly associated with indulgent, intoxicating pleasures such as music, alcohol and fragrant perfumes. Bast may be goddess of love, music and pleasure, but she is also a wild woman who, like a cat, can be merciless. To the Egyptians, Bast was patroness of the sun. Later, the Greeks gave her rulership of the moon. This association with both day and night reflects the duality of her nature.
It is thought that we should pronounce her name as 'Bast' and not 'Bastet'. The Egyptian language evolved so that in later years, 't' was often silent. Scribes added the additional 't' to her name to emphasis that it should be pronounced 'Bast' and not 'Bas'.
Cats are sacred to Bast, and she is often depicted in cat form, or as a woman with the head of a cat. She is also the goddess of women, magic and secrets.
Scented in Black Amber Musk. An enchanting blend of black amber, clove, nutmeg and musk.
Isis: Isis, Egyptian Aset or Eset, one of the most important goddesses of ancient Egypt. Her name is the Greek form of an ancient Egyptian word for "throne." Isis was the ancient Egyptian goddess of marriage, fertility, motherhood, magic, and medicine. Isis was initially an obscure goddess who lacked her own dedicated temples, but she grew in importance as the dynastic age progressed, until she became one of the most important deities of ancient Egypt. Her cult subsequently spread throughout the Roman Empire, and Isis was worshipped from England to Afghanistan. She is still revered by pagans today. As mourner, she was a principal deity in rites connected with the dead; as magical healer, she cured the sick and brought the deceased to life; and as mother, she was a role model for all women.
Scented in Midnight Jasmine. An intoxicating, classic, exotic Jasmine fragrance. Top flowery notes are blended with ozone and a touch of fruity notes. Heart notes of rose and lilac are rounded with musk and wood notes at the base.
Queen Nefertiti: Nefertiti, whose name means "a beautiful woman has come," was the queen of Egypt and wife of Pharaoh Akhenaten during the 14th century B.C. She and her husband established the cult of Aten, the sun god, and promoted Egyptian artwork that was radically different from its predecessors. A bust of Nefertiti is one of the most iconic symbols of Egypt. Little is known about the origins of Nefertiti, but her legacy of beauty and power continue to intrigue scholars today. Some evidence suggests that she hailed from the town Akhmim and is the daughter or niece of a high official named Ay. Other theories have suggested that she was born in a foreign country, possibly Syria. Nefertiti was perhaps one of the most powerful women ever to have ruled. Her husband went to great lengths to display her as an equal. In several reliefs she is shown wearing the crown of a pharaoh or smiting her enemies in battle. But despite this great power, Nefertiti disappears from all depictions after 12 years. The reason for her disappearance is unknown. Some scholars believe she died, while others speculate she was elevated to the status of co-regent—equal in power to the pharaoh—and began to dress herself as a man. Other theories suggest she became known as Pharaoh Smenkhkare, ruling Egypt after her husband's death or that she was exiled when the worship of the deity Amen-Ra came back into vogue.
Scented in Cashmere Noir. Soft cashmere and jasmine are lightly wrapped in the deep notes of light woods, amber, patchouli and musk.
Queen Nefetari: Nefertari was the wife and queen of Ramses II. She lived during the New Kingdom Period and was a member of Egypt's 19th Dynasty. Her name, Nefertari Merytmut (meaning The Beautiful Companion, Beloved of Mut), embodied the majesty and stature of queen Nefertari. At the young age of 13 she married the 15 year old Ramses II, who would come to be famously known as Ramses the Great. Nefertari was likely a noblewoman but not a member of the royal family. She uses the titles associated with a noblewoman but no titles calling herself a king's daughters. Records say that Ramses II and Nefertari were married before he ascended the throne. Official records mention her from the first year of his reign. Nefertari was Ramses II's wife for over 24 years, until her death. What was probably a politically inspired union would, over time, blossom into an amorous relationship wherein Ramses II celebrated his love for her with monuments and poetry dedicated to her honor. The many titles ascribed to her attest to the esteem Ramses held for her and the various roles she undertook in her function as queen. Designations such as Sweet of Love, Bride of God and Lady of the Two Lands, demonstrate her positions as lover, priestess and political functionary. She is known to have even accompanied Ramses, in some cases, on military campaigns.
Scented in Pink Amber and Vanilla. Notes of pink amber and vanilla wrap around blushed orchid and jasmine petals.
Handmade soaps make the perfect gift for anyone! We make luxury soaps using the cold process soap making method. This means that every batch is created using exceptionally high-quality ingredients that are wonderful for your skin. In addition, crafting these artisan soaps allows us to create little works of art. Our homemade soap is meant to be a little piece of everyday luxury, and we strive to bring a spa soap experience to your shower. Have a baby shower coming up? Bridal Shower? Handmade custom soaps are the perfect party favor! Contact us to customize your own soap today! For cold process orders please place your order at least 6 weeks in advance. If you would like your bars sooner, 2 weeks in advance, we can accommodate with several options of pre-saponified natural bases that can be customized with your choice of a variety of scent profiles and colors.
Our products are never tested on animals!
Handmade soap is always best kept as dry as possible. The dryer you keep it, the longer you extend the life of your soap bars! We recommend a well draining soap dish that is never in any pooling or running water. You will thank us later!
Because our soap is handcrafted in small batches, each bar of soap will vary slightly in weight and design from the image shown.
Some soaps contain Vanilla, which discolors the soap, over time, to a darker color. In order to keep it as natural as possible, we have decided not to use a vanilla stabilizer. The discoloration is purely cosmetic and does not have anything to do with the quality of the soap! We do try to work with fragrances that do not discolor or we incorporate the discoloration in the design.
Most items are made to order. Please allow 5-10 days of manufacturing time before it is shipped.
A L L E R G E N | D I S C L A I M E R :
FOR EXTERNAL USE ONLY. All information contained on this web site, including information relating to medical and health conditions, products and treatments, is for informational purposes only. Discontinue use and contact your physician if any adverse reactions occur. None of the above statements on Shrine of 22s' page or shop have been evaluated by the Food and Drug Administration. Products are for external use only (products with essential oils are not intended for pregnant or nursing women, please contact your physician prior to use), please do a patch test on the skin for any sensitivities and if any occur, discontinue use immediately. Avoid any contact with eyes, mouth, or another orifice. Shrine of 22s' products are not intended to diagnose, treat, cure or prevent any disease or conditions, instead, please consult a physician or other healthcare practitioner with your concerns before starting any alternative treatments, diets, supplements or exercise programs. Please be aware of any personal allergies PRIOR to using this product. If you have an allergy to any of the listed ingredients, this may not be the product for you! Contact me with your allergies and I will accommodate!

Ingredients: Coconut Oil, Palm Oil, Safflower Oil, Glycerin (kosher, of vegetable origin), Goat's Milk, Honey, Aqua/Water/Eau, Sodium Hydroxide (saponifying agent), Sorbitol (moisturizer), Fragrance, Sweet Almond Oil, Apricot Kernel Oil, Propylene Glycol (of vegetable origin), Sorbitan oleate (emulsifier), Oat Protein (conditioner) , Titanium Dioxide (mineral whitener used in opaque Soaps), Mica