Tomato Charcoal Complexion Bar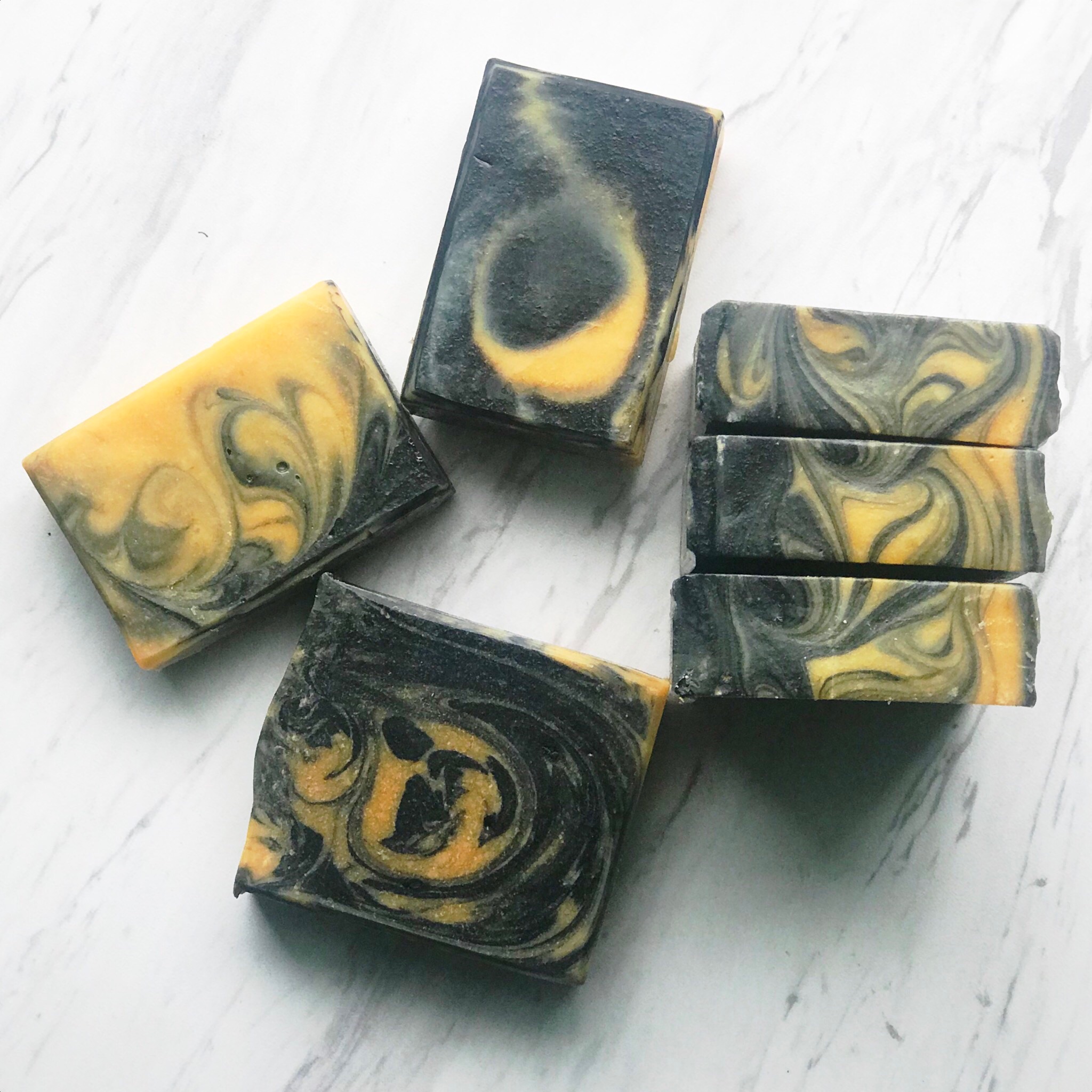 Tomato Charcoal Complexion Bar
DOUBLE THE TOMATO JUICE AND ADDED TOMATO PASTE AND RICE BRAN OIL!
Give your complexion the boost it needs with this spa complexion bar!
Besides cooking, tomato can be used in a number of ways to enhance your beauty. It is considered to be the panacea of skin. It is believed that consuming tomato and tomato products will give you healthy and beautiful skin. Its beauty benefits are gaining popularity with every passing day. Lycopene in tomatoes is a terrific antioxidant. It nourishes skin cells and helps protect you from the assault of environmental pollutants. Activated Charcoal helps detoxify and clear the complexion. it is known for it's oil-absorbing properties. Charcoal binds to dirt and oil in the skin, bringing them to the surface.. Give your complexion a healthy glow with this facial bar.
The delightful bar contains saponified oils of Olive, Rice Bran, Coconut, and Castor. Decadent Organic Fair Trade Raw Shea Butter, and Aloe Vera Juice and Tea Tree Oil round out this spectacular bar. Vegan Friendly and Palm Free!
Handmade soaps make the perfect gift for anyone! We make luxury soaps using the cold process soap making method. This means that every batch is created using exceptionally high-quality ingredients that are wonderful for your skin. In addition, crafting these artisan soaps allows us to create little works of art. Our homemade soap is meant to be a little piece of everyday luxury, and we strive to bring a spa soap experience to your shower. Have a baby shower coming up? Bridal Shower? Handmade custom soaps are the perfect party favor! Contact us to customize your own soap today! For cold process orders please place your order at least 6 weeks in advance. If you would like your bars sooner, 2 weeks in advance, we can accommodate with several options of pre-saponified natural bases that can be customized with your choice of a variety of scent profiles and colors.
Our products are never tested on animals!
Handmade soap is always best kept as dry as possible. The dryer you keep it, the longer you extend the life of your soap bars! We recommend a well draining soap dish that is never in any pooling or running water. You will thank us later!
Because our soap is handcrafted in small batches, each bar of soap will vary slightly in weight and design from the image shown.
Some soaps contain Vanilla, which discolors the soap, over time, to a darker color. In order to keep it as natural as possible, we have decided not to use a vanilla stabilizer. The discoloration is purely cosmetic and does not have anything to do with the quality of the soap! We do try to work with fragrances that do not discolor or we incorporate the discoloration in the design.
Most items are made to order. Please allow 5-10 days of manufacturing time before it is shipped.
A L L E R G E N | D I S C L A I M E R :
FOR EXTERNAL USE ONLY. All information contained on this web site, including information relating to medical and health conditions, products and treatments, is for informational purposes only. Discontinue use and contact your physician if any adverse reactions occur. None of the above statements on Shrine of 22s' page or shop have been evaluated by the Food and Drug Administration. Products are for external use only (products with essential oils are not intended for pregnant or nursing women, please contact your physician prior to use), please do a patch test on the skin for any sensitivities and if any occur, discontinue use immediately. Avoid any contact with eyes, mouth, or another orifice. Shrine of 22s' products are not intended to diagnose, treat, cure or prevent any disease or conditions, instead, please consult a physician or other healthcare practitioner with your concerns before starting any alternative treatments, diets, supplements or exercise programs. Please be aware of any personal allergies PRIOR to using this product. If you have an allergy to any of the listed ingredients, this may not be the product for you! Contact me with your allergies and I will accommodate!
Ingredients: Coconut Oil, Tomato Juice, Olive Oil, Rice Bran Oil, Organic Fair Trade Raw Shea Butter, Sodium Hydroxide ( saponifying agent ), Aloe Vera Juice, Castor Oil, Tomato Paste, Sodium Lactate, Activated Charcoal, Tea Tree Essential Oil