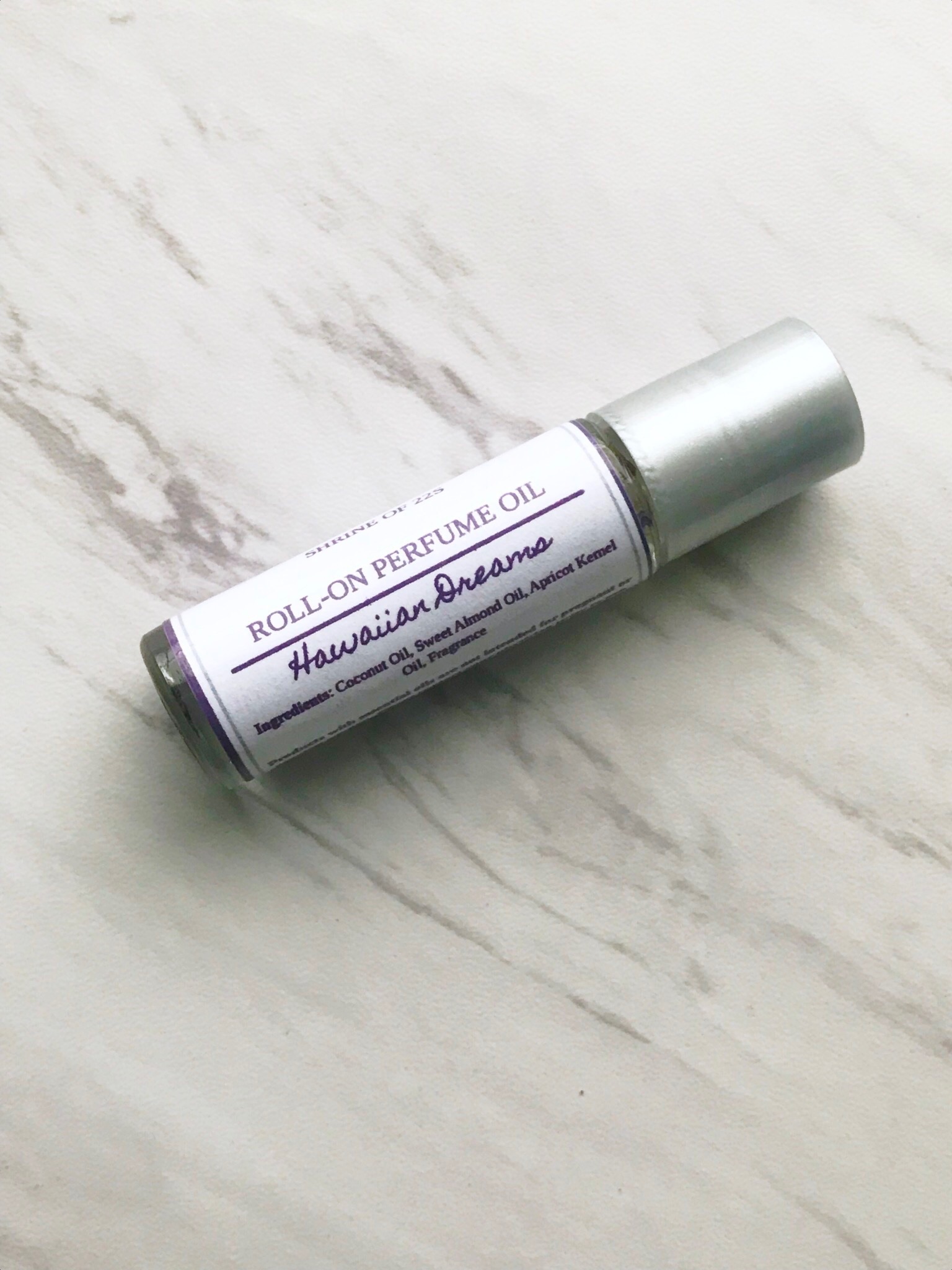 Roll On Perfume Oil
For a lasting scent on the go, use Shrine of 22's handmade perfume oil roll-ons. Sized perfectly for your pocket or purse, our sparkling glass roll-on bottles deliver highly concentrated perfume right where you want it, wherever you are. Concentrated perfume oils last 6-10 times longer than normal perfumes. Available in all 22 classic scents, all body oil scents, and all scents from The Manuel Collection.
Ingredients: Coconut Oil, Sweet Almond Oil, Apricot Kernel Oil, Natural Fragrance, ( Optional Natural Flowers)

Apply to pulse points behind ears and on wrists. Rub wrists together and indulge.
Available in the following scents:
Classics:
Hawaiian Dreams: Mouth-watering top notes of juicy orange, lemon, and maraschino cherries; followed by tangy pineapple, acai berry, and sea spray; well rounded with base notes of sweet coconut, vanilla rum, and fresh ozonic notes transport you to your favorite tropical island.
Alluring Pomegranate: Pamper yourself in mysterious, exotic, and spicy top tones, while your senses indulge in sensual, floral, spicy, and woody base notes. Sure to capture the attention of all those around you.
Bewitched: Irresistibly appealing and out of this world, mysterious and fascinating. Opening notes of Indian Jasmine and Italian Bergamot. Warm and sensual notes of Cedarwood, Ylang Ylang, and Patchouli dance through the heart; and step aside revealing Golden Amber, Cashmere Accord, and Vanilla. If you love Thierry Mugler Alien, you will fall in love with this aroma.
Cool Tea: Cool, Calming, and Crisp. This delightfully refreshing and soothing fruity tea blend will take you straight into a state of euphoric bliss. Notes of white tea, apricot kernels, nutmeg, ginger combined with watermelon, cantaloupe, honeydew, and fresh green cucumbers. This is quite a unique, unexpected, and delightful softly provocative fragrance! But "soft" does not imply it isn't strong! This is a true comfort scent.
Maple Delight: If you enjoy the rich buttery aroma of a bowl of maple oatmeal, this is the perfect scent for you! This fragrance includes savoring, mouth-watering notes of oatmeal and sweet cream butter, cinnamon, raisins, and honey, with notes of vanilla, brown sugar, and maple. Such a comforting delicious sweet scent!
Fruity Bubbles: This aroma immediately brings you back to childhood; where you'll find yourself blowing bubbles with luscious, fluffy, pink bubblegum! This delicious, fun fragrance begins with top notes of strawberry, aldehydic effervescent notes, and citrus; followed by middle notes of coconut and clove; sitting on a base note of crisp vanilla.
Fields of Lilac: You will find yourself standing in a field of fresh Lilac as you experience this amazing aroma. You might even need to swat bees away from the bottle! Very delicate feminine scent.
The Lady in Pearls: Seductive, Heady, Intoxicating, and Amazing. French Vanilla and African Vanilla with a secret...base notes of vanilla and orchid flower, with a subtle dry down of sweet flower and musk. A definite favorite of ours!
Neck Nibbles: Dracula would fall in love with this fragrance! Fresh citrus notes of lime and orange sparkle with effervescent highlights as they lead to a luscious blend of strawberry and black cherry in this playful scent. Leafy green accents of eucalyptus, flowery notes of violet and lily, add intensity as a base of vanilla creates sweet tones for the fragrance.
Sandy Beaches: Escape the cold winter with this tropical twist of coconut milk and cool vanilla that's the perfect island escape. It has a strong, lovely coconut scent to it that makes you want to relax. Reminiscent of sweetened coconut cream or fresh coconut ice cream it just automatically transports you to a sun-filled Caribbean Island. Get over your winter blues with this Caribbean cruise and island hopping in a jar type scent!
Baby Fever: For those of you out there with baby fever, this is the perfect blend for you! A delicate, light, fresh airy aroma. With top notes of clean ozone, muguet, and citrus. Middle notes of lilac, classic jasmine and a delicate rose. Gentle woody, violet and powder notes at the base finish off this soft baby powder fragrance.
Saintly Sinner: Enchanting jasmine is touched with the deep sexy notes of musk, patchouli and brown sugar. For women who are angelic, devilish, or a little bit of both. This fragrance provides an overdose of sensual and sweet notes. This sultry aroma is rich with bergamot, sweet red fruits, vanilla, caramel, and patchouli. Pamper yourself with this irresistible, sexy, complex, fresh, yet sweet & peppery and slightly musky, with a caramel undertone... just marvelous aroma! A little will go a long way! Although it is strong, it's not offensive.
Bedtime Stories: Made with lavender essential oil, this aroma is a simple, perfectly sweet, fresh, herbaceous, floral scent with a woody, balsamic undertone. Very strong soothing notes of lavender.
Shoreline: This unisex duo is a seductive marriage of tainted rose and wild geranium with addictive, "can't live without it" notes of bergamot, gold amber, and fresh tanned leather, enhanced with the massage of summer saddle soap. Delicious, sweet, creamy top notes of real coconut intricately blended with peaches, vanilla and base notes of rich butter and powder perfectly round out this musky intoxicating scent.
Black Tie Affair: Get lost in the sophisticated notes of black peppercorn and leather, carefully crafted with warm woods, patchouli, musk, and citrus. A subtle refined fragrance for a nice night at the opera.
Man of the House: Intoxicating and mysterious sensual musk notes with just a touch of rosewood. A sweet, sophisticated very masculine blend that is sure to become a favorite for the men!
Charmer: This intoxicating blend of Patchouli, Oakmoss, African Musk, Frankincense, Myrrh, and Cedarwood is sure to grab the attention of ANYONE around you. Formulated for men, but easily a unisex scent, this scent is not your strong, typical patchouli fragrance. It is an up close and personal scent! There is nothing on earth I can compare to this scent.
Cuban Lounge: Transport yourself to exclusivity. The smell of money, status, and masculinity are wrapped into this blend of aromatic bergamot with fresh lemon and orange zest spritzing a heart of velvety cognac essences and rich, spiced tobacco leaves based in a subtle white wood.
Woodsmen: A strong manly blend of citrus zest, cedar leaf, rich spices, vetiver, white pepper, deep musk, and light patchouli. A crisp freshness that is so wonderfully attractive plus a touch of seductiveness... attract the noses of both men and women alike. It is deep and complex, clean, soft delicate, but masculine, sultry scent.
Distinguished Gentleman: This is an elegant, rich, sporty scent with notes of sandalwood, Florentine iris, herbaceous clover, French verbena, violet leaves and ambergris. It's simply what a well-dressed man ought to smell like!
Alcolado: Alcolado aka Bay Rum is something I grew up bathing in. I absolutely LOVE the scent. Indulge in this spicy, cultural blend of crushed cloves, cinnamon sticks, cool mint, patchouli, and crisp pine needles, with a sweet orange and apple freshness. Rounded out with a nice vanilla musk base. This will take a lot of you back your childhood baths! (UNISEX)
Bamboo Jungle Escapade: A rich and luxurious well-balanced green aroma with hints of sandalwood, cedarwood, musk, floral and sweet fruit. Originally formulated to be a manly scent, the unique blend of fruit and woodsy undertone with just a touch of floral, and citrus makes it an exceptional unisex scent! Not overpowering, just a nice clean finish. (UNISEX)
Body Oil Collection:
Soothing Bergamot Chamomile
Calming Lavender Vanilla
Enchanting Jasmine Sandalwood Amber
The Manuel Collection:
333: Exquisite top notes of Cardamon and Papyrus open up your senses to intoxicating Iris, Violet and Leather. Rounded off with woody tones of Sandalwood, Cedar, and Amber. This scent is smoky, musky, leathery, comforting and all around captivating! Do not be surprised if the lady in your life falls in love and starts to use it after her baths. If you're a fan of Le Labo Santal 33 this is a scent for you.
Sandalwood Musk: A delicate warm, gentle, and romantic blend of Sandalwood and Musk. This comforting aroma with a hint of top citrusy notes, quickly transcends into a cozy, heady, and woody musk.
Vanilla Musk: Soft, sophisticated, musky base sweetened up with a hint of Vanilla. A straightforward intoxicating heady aroma.
Cedarwood Oakmoss: A mysteriously enchanting, sensuous, masculine base with woody, smokey notes of Cedarwood. This clean, natural scent is calming, dry, powdery, mossy, a little woody with a hint of sweetness.
El Barbero: Reminiscent of my beloved Papa, my maternal grandfather, after a shave and haircut at the barber shop! Heart notes of amber and rum with a light top note of musk and Bay make this irresistible! This brings back so many fond memories of Papa that it made my eyes tear up. If you remember snuggling your nose into grandpa's collar as he gave you a big hug, and smelling his aftershave and hair tonic, this one is for you!
Woody Pines: This carefully crafted blend of Pine, Fir Balsam, Patchouli, and Himalayan Cedarwood essential oils automatically transport you to some freshly cut wood, with smokey aromas shifting your imagination straight into a cozy log cabin with a roaring fire blazing. The very first blend created for The Manuel Collection Beard Care and still one of my very favorites.
Most Items are made to order. Please allow 5-10 days for processing before shipping.
A L L E R G E N | D I S C L A I M E R :
FOR EXTERNAL USE ONLY. All information contained on this website, including information relating to medical and health conditions, products and treatments, is for informational purposes only. Discontinue use and contact your physician if any adverse reactions occur. None of the above statements on Shrine of 22s' page or shop have been evaluated by the Food and Drug Administration. Products are for external use only (products with essential oils are not intended for pregnant or nursing women, please contact your physician prior to use), please do a patch test on the skin for any sensitivities and if any occur, discontinue use immediately. Avoid any contact with eyes, mouth, or another orifice. Shrine of 22s' products are not intended to diagnose, treat, cure or prevent any disease or conditions, instead, please consult a physician or other healthcare practitioner with your concerns before starting any alternative treatments, diets, supplements or exercise programs. Please be aware of any personal allergies PRIOR to using this product. If you have an allergy to any of the listed ingredients, this may not be the product for you! Contact me with your allergies and I will accommodate!
Our products are never tested on animals!